Product Description
Footstep sound engine for post-production and video games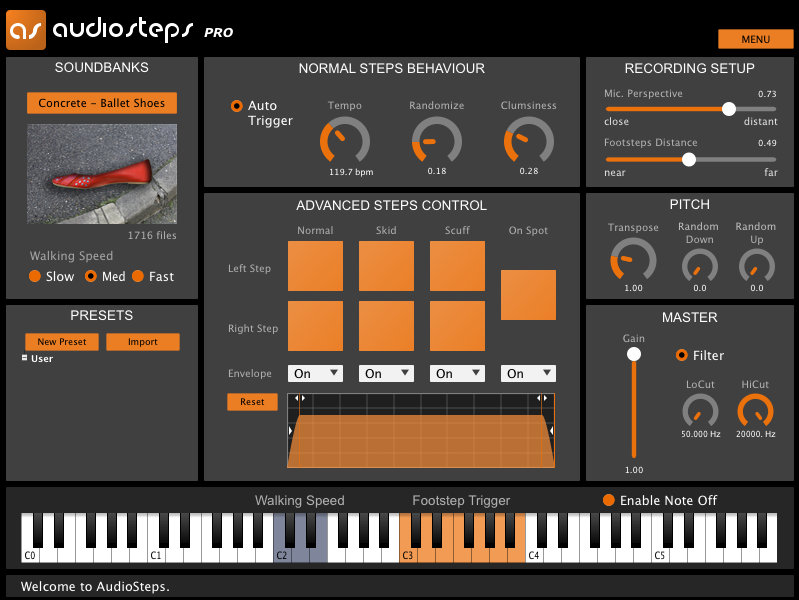 AudioGaming introduces the first audio footstep system available as a plug-in.
Based on specific real-time control and ownership of acoustic audio signatures, we produce realistic footstep sounds for most post-production needs. Sound designers get expert control on the audio and save a considerable amount of time. No more need for footstep recordings, all combinations are already available in the plug-in! Gain control over the different properties to shape the sounds you desire.
Try the Free Version!
It is not a trial version: there are no beeps or expiration date. One complete bank is available entirely for free so you can test AudioSteps inside/out before deciding.
Key features:
Get access instantaneously to thousands of footsteps including different walking speeds
Different behaviors available: walk, break, scuff, tread and clumsiness control
Unique recording setup control to change mic perspective and footstep perceived distance
Pitch control and randomization
Envelope control for each walking type
MIDI in/MIDI out for unlimited control surface possibilities as well as mixing synchronicity.
Preset system to speed up recurrent work
Instant preview for fast browsing
Unique midi note off mode to offer instant sounding flexibility & soon to come tablet control (iOS/Android)
VST, RTAS, AU / Windows, MacOSX
Use Case
Whether you don't have the time or the budget to go through a foley session, you now have a backup plan. You can use AudioSteps to instantly sound your scene and use the real-time controls to make it fit perfectly your scene. AudioSteps has currently more than 21 shoes/surfaces combinations, and many more will come.
The available surfaces are:

Concrete
Wood parquet
Dirt
Gravel
Coarse gravel
Tiles
Water

The available shoes are:

Tennis
Ballet shoes
Business shoes
Stiletto heel
Hiking boots
You can hear preview sounds on our SoundCloud
Unique Features

AudioSteps proposes two very unique features:
Mic perspective: you can choose continuously from close range to distant range
Hearing distance: you can choose continuously from close to distant hearing
Custom databanks
You can ask us directly to create custom databanks, we will deliver high end quality steps directly available in AudioSteps for your particular environment.
If you already own any of our other products (Wind, Rain, Motors or Steps), contact us for a special cross-grade price!
Price: 290€ (Approx. $314 USD)
this plugin requires an iLok dongle to run, and an account at www.iLok.com